`

1. Max Headroom: Regardless if he was selling Coca-Cola (Coke for short and it was the New Coke as well), the dystopian TV movie and the short-lived TV drama based on the former, the more successful talk show; people just loved this Artificial Intelligence character played by human Matt Frewer. While Fewer is best known for the Headroom role, he is still able to find work in other roles short and long term. His most recent recurring roles were in the series Eureka and Orphan Black.

2. Michael Jackson's "Thriller" album cover: Before the iconic short film that served as the music video for the title track with its horror theme in both in song and images; you had the white jacket pants and jacket and black shirt and belt. Also, various shots of the album photo shoot of MJ with a baby tiger. This was one of the photos that would crown MJ as the "King of Pop."

3. Michael J. Fox in the 1980's: We loved him as Alex P. Keaton on the sitcom Family Ties and Marty McFly from the Back To The Future movies. On Family Ties he was the younger Archie Bunker and Fonzie in one. But he was lovable, and loved his family. BTTF was meant to be a single movie, but they decided to move forward on two sequels to tell a greater story and end that story ASAP.

4. Madonna: From the album shoot for her first album. Just any 1980's Madonna photo would do, but this one still shows a woman that knows what he wants and how to get it…or at least try. Failure was not an option for this future Material Girl.

5. A KITT replica at Universal Studios: Knight Rider only produced 90 episodes over a course of four seasons, but the star of the show was not just David Hasselhoff (who came off a stint playing Dr. Snapper Foster on The Young and the Restlessand was being written out of Y&R). It was also the 1982 Pontiac Firebird Trans Am who was equipped with an AI computer known at KITT (voiced by William Daniels).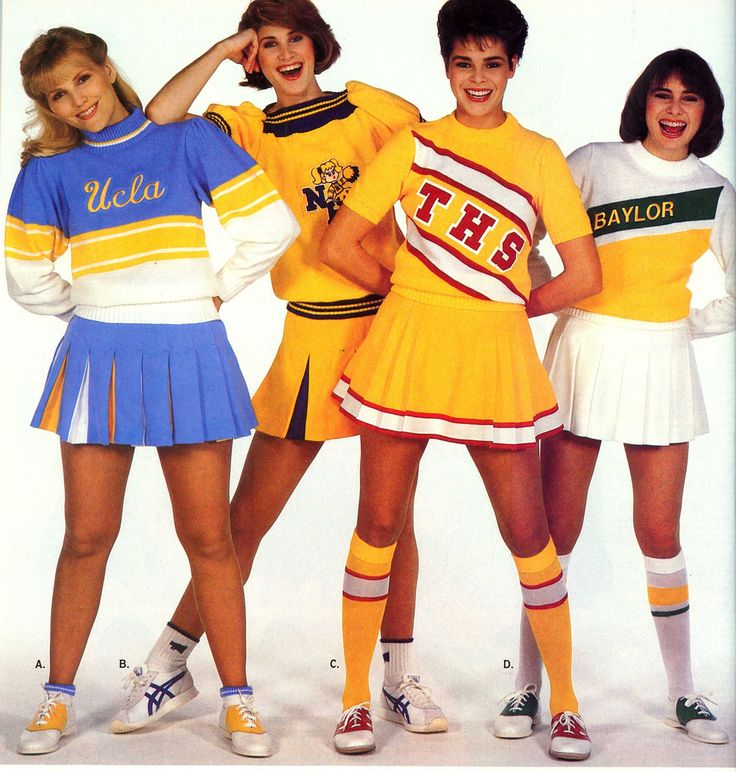 6. Something about the Cheerleader uniform in the 1980's: Call me a sucker. I just love those skirts and shoes and long legs. Granted the uniform has been perfected since then, especially for those who want to movie and not give certain people too much eye candy. Some of you have too much sock. Less sock means more.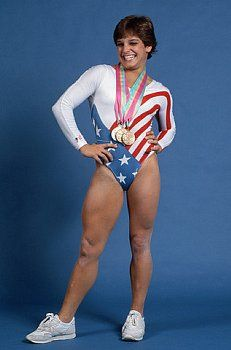 7. Mary Lou Retton: Perfection and the Winning Smile. Talk about 15 minutes of fame. Remember all the endorsements and micro TV show "Fun Fit?" No? Hey Margaret Richard was getting her long running body toning show "Body Electric" off the ground and the 15 minutes of fame for the "20 Minute Workout" was almost up. Retton was just getting outshined and she knew she was on borrowed time. But we will love just as much as we loved Nadia Comăneci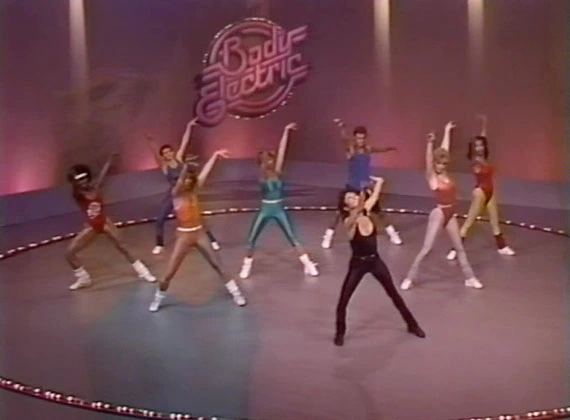 8. Margret Richard and "Body Electric" in its early years: Speaking of "Body Electric." Hey it started in the 1980's. She had about eight "dancers" (as she called them on the show) when the show first started. Her show still has loyal viewers and has been able to produce newer episodes, but it's mostly just her and no dancers…unless the viewer counts his or herself as one.

7. Star Trek: The Next Generation: It started in 1987, and there were doubts about how successful it would be. Well it would keep Star Trek in some form on the small screen for 17 consistent years. It counts as 80's nostalgia.

8. Pee-Wee Herman: Face it, rising movie director Tim Burton along with comedic writer and actor Phil Hartman helped makePaul Reubens and his Pee-Wee persona superstars.

9. Batman embraces the dark: Move over Adam West, let Tim Burton (and Michael Keaton at first) show you how it's done. This is where Batman gets serious. Jack Nicholson is funny and scary in one package. He will pave the way for Heath Ledger's tragic career as one of Batman's greatest enemies.

10. Prince becomes a superstar: He started in the later 1970's, but he would breakout in 1982 with 1999. Two years later, he would take us into the "Purple Rain." His fight for creative control paid off, even if his attempt at doing movies would only give him one successful flick.

11. Johnny Depp as the teen idol and playing a babyface cop: Before Tim Burton, before Jack Sparrow, Depp played police officer Tom Hanson on 21 Jump Street. He did have to deal with Fred Kruger before coming the down to earth, but it's just not as fun you know.

12. New Kids On The Block: Their second album hit pay dirt, and when radio decided to play their take on the Philly Soul classic "Didn't I Blow Your Mind," their first record got some love too. But as the 80's became the 90's it was time for NKOTB to growup, and they did. But now they are doing great as a nostalgia act of sorts. Got to love it when Candace Cameron Bure was a fan and during her time playing DJ Tanner on "Full House." She got to introduce this group as part of iheart's 80's concert last year. Got their star on the Walk of Fame in 2014.

13. Boy George: He wanted to be a woman in the realworld. Yet he could croon 1980's blue eyed soul with his group Culture Club.

14. Vanna White and Pat Sajak when they were younger: OK this pic was Vanna on her very first Wheel of Fortune program when it was still on NBC. But little did they know they were going to be one of the most popular game shows in the evening hours. When Merv Griffin wanted to syndicate Wheel, even he did not know it would become a monster. The 1980's was good to Pat and Vanna.

15. Dustin Hoffman as Tootsie: Before Robin Williams tried his hand at it in a movie, Dustin Hoffman led the crossdresser charge in this 1980's adult comedy about a down on his luck actor playing a female in order to win a role on a daytime drama. Hey soaps were still going strong back then and not the dinosaur they have become.

16. Motley Crue: While KISS removed the makeup, these guys became the rebel rousers. Boys and girls alike became fans of these innovators of Glam Metal and then some. Heck more respectable metal bands of the day like Iron Maiden, Guns n' Roses, and Judas Priest rode on their wave, along with copy cats like Poison and Ratt.

17: The Cover of Pink Floyd's "A Momentary Lapse of Reason.": Roger Waters lost the fight to use the Pink Floyd name for himself and the iconic cover of over 700 hospital beds along the Saunton Sands beach is a 1980's snapshot of a timeless prog rock band.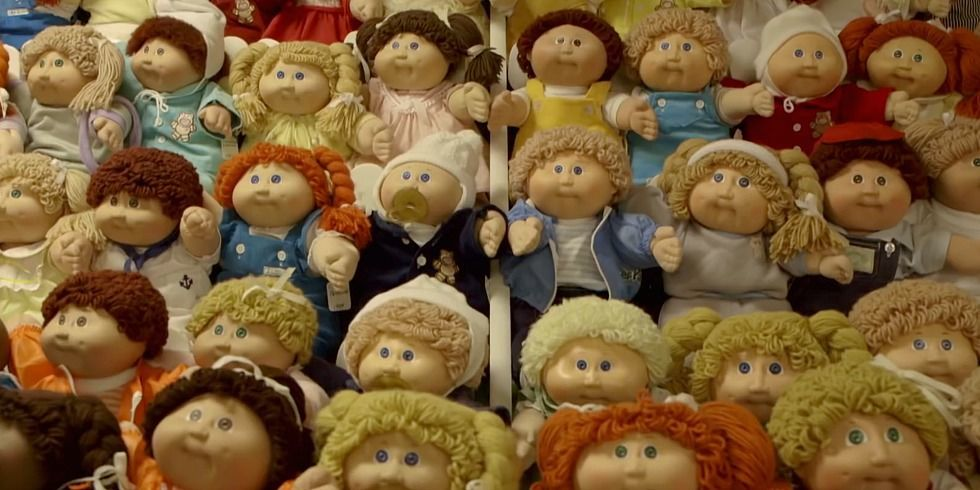 18. Cabbage Patch Kids: No comment

19. Rodney Dangerfield in Caddyshack: Helped him win respect in the real world.

20. President Ronald Reagan: Great communicator, American Statesman and President (Number 40). He was better at those things, then when he was an actor.