1. Wilfred Bouma
Aston Villa star Wilfred Bouma suffered a severe dislocation of his ankle at
Villa Park in 2008.

2. Zach Miller
Chicago Bears tight end Zach Miller required emergency surgery after dislocating his left knee while playing against the Saints. Vascular surgeons saved Millers' leg from amputation following the gruesome injury.

3. AndranikKarapetyan
Armenian weightlifter AndranikKarapetyan was in second place in the 170-pound clean and jerk competition when his elbow blew out during the competition.

4. Samir Ait Said
France's Samir Ait Said broke his leg while competing on the vault during the men's team qualification on the opening day of the Rio 2016 Olympics.

5. Mitch Callahan
The Grand Rapids Griffiths player took a puck to the face puck late in the first period of a game against Iowa. He didn't return to the game, but was taken to a local hospital. His team won the game, 6-1. He lost 10 teeth, suffered a broken jaw, and a split lip.

6. An opponent's skate caught Canadian minor-league hockey player Sébastien Courcelles of the Thetford Mines Isothermicin the left cheek, slicing it open during a recent Ligue Nord-Americaine de Hockey game.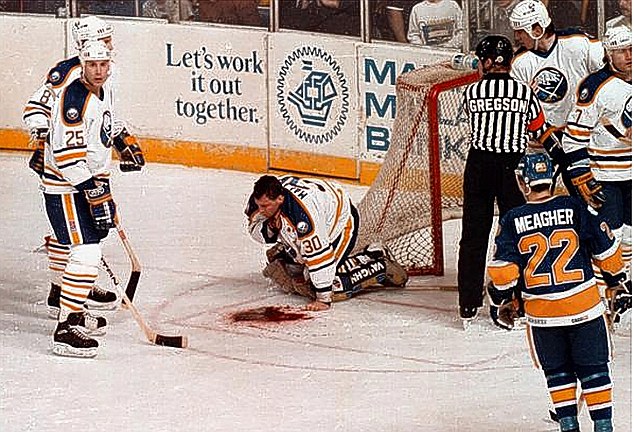 7. Clint Malarchuk survived a life-threatening injury during a 1989 NHL game when St. Louis Blues' Steve Tuttle's skate blade sliced his carotid artery and jugular vein, causing immediate massive blood loss.

8. David Lawrence had recently established himself as England's premier fast bowler when, during a cricket test match against New Zealand, he shattered his patella during his delivery stride. The sound of his knee splitting could be heard on the boundary some fifty yards away. The injury effectively ended his career.

9. Allan Ray, of the Boston Celtics, was playing in the Big East Tournament against Pittsburgh when he was poked in the eye by Carl Krauser. Ray's eye came out of its socket. Not much else to say about that.

10. During a 2013 gameLouisville's Kevin Ware came down rather awkwardly (to say the least). Not only did he break his leg, but the bone came bursting out of his skin. The result is one of the worst photos we have ever seen.

11. At UFC 168, Anderson Silva fighting Chris Weidman tried to kick his opponents leg away. He tried a little too hard and broke his shin with a crack that resounded around the auditorium.